April 26th, 2016 by Ryan Hamilton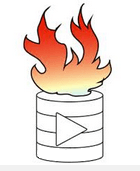 Recently there was a post on SQL tips by the JOOQ guys. I love their work but I think standard SQL is not the solution to many of these problems. What we need is something new or in this case old, that is built for such queries. What do I mean, well let's look through their examples reimplemented in qsql and I'll show you how much shorter and simpler this could be.
Everything is a table
In kdb we take this a step further and make tables standard variables, no special notation/treatment, it's a variable like any other variable in your programming language. Instead of messing about with value()() we define a concise notation to define our variables like so:
Data Generation with Recursive SQL
This is the example syntax they have used to define two tables and then join them:
What to hell! If I want variables, let's have proper variables NOT "Common Table Expressions".
I created two tables a and b then I joined them sideways. See how simple that was.
Running Total Calculations
Oh dear SQL how badly you have chosen your examples. Running calculations are to APL/qSQL as singing is to Tom Jones, we do it everyday all day and we like it. In fact the example doesn't even give the full code. See this SO post for how these things get implemented. e.g. Standard SQL Running Sum
qSQL table Definition and Running Sum:
Finding the Length of a Series
This is their code:
This is KDB: