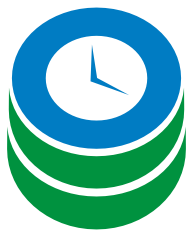 This is a list of the top commercial, financial and open source time-series databases available as of January 2023.
What is a time-series Database?
A time-series database is specialized to quickly and efficiently answer queries involving:
Time-Joins - e.g. Event X occurred at 9am, when was the closest Y event to that.
Time-Aggregations - specialized functions to allow handling date/time types well.
Additionally they typically add:
Compression - As the data is large and often repeating
Support Nanoseconds - As for some industries e.g. trading, the exact timing of events matter.
To find out more see our full article on
what a time-series database is? What it is for etc.
The table below shows the support each database has in this area.
Time-series Databases
Product
Score
Released
Speed
SQL
Compression
Time-Joins
Time-Aggregations
Nanoseconds
Popularity
Description
License
Timescale (wp)
6
2018
Medium+
Full + Extensions
Basic
No>
Micros
Unknown
Postgres for time-series
Apache License 2.0
Clickhouse (wp)
8
2016
Fast
Some + Custom
Many
asof
Partial
Popular
Very fast OLAP database with cloud version available. Started 10 years ago at Yandex to store the russian equivalent of google analytics.
Apache License 2.0
QuestDB
7
2014
Fast
High + Extensions
Many
asof+
Good
Partial
New
Fast database with strong focus on time-series. Very similar ideas to kdb+ but open source.
Apache License 2.0
InfluxDB (wp)
6
2013
Medium
Some + Custom
Some
No
Yes
IoT/monitoring
Originally built for monitoring and alerting. Now specializing in time-series analysis and IoT. Uses an SQL-like language.
MIT License
Druid (wp)
6
2011
Medium
Some + custom
No
Milliseconds
Click analytics
A distributed data store written in Java. Druid is designed to quickly ingest massive quantities of event data, and provide aggregated queries ontop.
Apache License 2.0
kdb+ (wp)
8
2003
Fast++
Some + qSQL
Many
Yes. AJ/WJ
Finance
Very fast column-oriented database with custom language q and custom time-series joins.
Steep learning curve and difficult to find experts.
Commercial
Time-Series Benchmarks
For more information see our Time-Series benchmarks article
Clickbench results:
System & Machine
Relative time (lower is better)
Note
ClickHouse (c6a.metal, 500gb gp2):
×1.59
SelectDB (c6a.metal, 500gb gp2):
×1.88
ClickHouse (m5d.24xlarge):
×2.15
StarRocks (c6a.metal, 500gb gp2):
×2.16
Redshift (4×ra3.16xlarge):
×2.20
DuckDB (c6a.metal, 500gb gp2):
×2.74
QuestDB (partitioned) (c6a.metal, 500gb gp2)†:
×24.24
MariaDB ColumnStore (c6a.4xlarge, 500gb gp2)†:
×59.27
TimescaleDB (compression) (c6a.4xlarge, 500gb gp2):
×86.91
Druid (c6a.4xlarge, 500gb gp2)†:
×150.50
PostgreSQL (c6a.4xlarge, 500gb gp2):
×883.89
NOT column oriented
Results reproduced from Mark Litwintschik's excellent article.
| Setup | Total Query Time (lower = better) | Note |
| --- | --- | --- |
| kdb+/q & 4 Intel Xeon Phi 7210 CPUs | 1.04 | |
| ClickHouse, 3 x c5d.9xlarge cluster | 4.06 | |
| Clickhouse on DoubleCloud, s1-c32-m128 | 5.77 | |
Financial Tick Databases
Product
Vendor (release year)
Description
One Tick Database
Onetick
2005
Column/Row oriented database targeted at the financial sector and specialised for tick data, created by Leonid Frants that had built a tick solution while at Goldman Sachs.
eXtremeDB
McObject
2001
A fast embedded, mostly in-memory database targeted for financial firms and time series data. It's raw API and ability to be embedded within a process makes it fast, however this means a higher configuration cost and learning curve to get started.