TimeStored offers kdb consulting, support and training services.
We provide kdb development consultants to clients. This can be:
On-site at your premises
Near-shore or
Full Project Deliverables
From requirements gathering, prototyping, business analysis, development, testing to full project management services. We can deliver the highest level of kdb expert in the way that most suits your business requirements.
Find out more...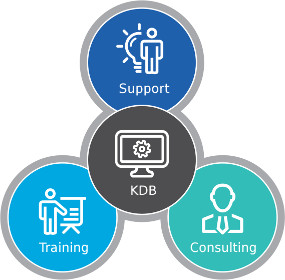 We recognise that kdb has a steep learning curve and that even experienced users can run into issues that may block progress for hours or weeks. Here at TimeStored we offer expert kdb support services to help reduce that learning curve and prevent technical issues affecting your business. Find out more...
While consultants and support quickly get your project started, if your long term goal is to develop in-house expertise TimeStored regular provide 2-3 day kdb training courses:
We provide a number of free kdb tutorials:
qStudio IDE provides an intelligent code editor for kdb with:
kdb+™ is a registered trademark of Kx Systems, Inc.