May 22nd, 2023 by Ryan Hamilton
I won't go through the full list of great presentations as Gary Davies has that excellently covered but I will highlight some trends I saw at kxcon 2023:
APIs are powerful abstractions that users need and love –

Erin Stanton (Virtu) – Brought massive amounts of energy to her presentation, showing how accessing powerful "getData" APIs from python->kdb allowed Erin to run machine learning models in minutes rather than hours. As a python enthusiast she was very happy to use the power of kdb without having to know it well. Erin demonstrated an easily browsable web interface that allowed data discovery, provided documentation and could be used to run live data queries.
Alex (TD) – Similarly discussed how his team all used python wrapped APIs to allow sharing smart query defaults such as ignoring weekend data to prevent less sophisticated users from shooting themselves in the foot.
Igor (Pimco) – Mentioned the power of APIs and how hiding the tables allowed changing implementations later.

Python is super popular

Citadel, Alex (TD), Erin (Virtu), Nick Psaris, Rebecca (Inqdata) all included significant python demonstrations.
Citadel – Has built an improved Python/Pykx process that uses a proxy thread to subscribe and publish updates extremely fast. They are using this as part of a framework to allow quants to publish data and construct DAGs (directed acyclic graphs) of calculations to produce analytics.
Why users love APIs and Python?
Alex Donohue's presentation was packed with years of condensed knowledge , including the excellent diagram below showing typical user expertise.  Notice as it transitions from backend kdb developers to frontend business users:
The level of kdb expertise drops off quickly (non-linear)
The data engineers and quants know much more python than kdb
I would like to add one more graph, showing business / domain knowledge.
That graph would be low for many kdb developers but higher for sales and trading.
Looking at it this way, makes it clear we need to provide APIs as users want to express queries in their own language.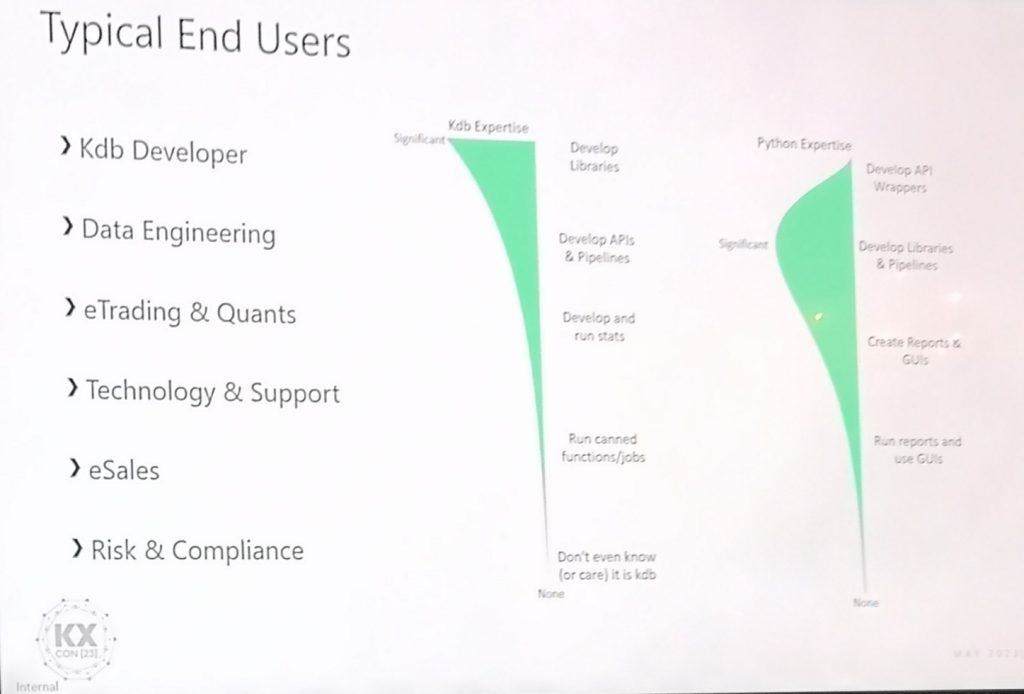 Other Patterns at kx Con:
Small Teams can really deliver with kdb – Numerous times we heard how a small team used kdb to deploy a full solution quicker, that scaled better and ran faster than all alternatives.

But costly per CPU licensing can be restricting to those teams.

ChatGPT  is everywhere – Rebeccas QuBot chatbot and Aaron Davies presentations demoed GPTs.